Pennsylvania One Book Early Literacy Program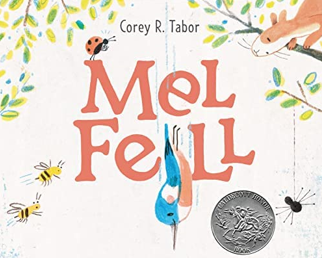 The Pennsylvania One Book initiative is a valuable program that highlights the importance of early literacy development in preschoolers and the significance of reading early and often to children, as well as engaging them in conversation and other activities around books. The program has remained successful in part due to the partnership of collaborating agencies that all support early childhood literacy efforts. Each year, a different children's picture book, is chosen by the committee to be highlighted.

The 2023 Pennsylvania One Book title is Mel Fell by Corey R. Tabor.
The PA One Book Committee has chosen Mel Fell by author Corey R. Tabor as the 2023 PA One Book Early Literacy selection. The Pennsylvania One Book program is entering its eighteenth year promoting the value and benefits of reading early and often to preschoolers.
Copies of this year's title have been sent out to public libraries and certified early childhood education programs across Pennsylvania.
Click here for PA One Book Activities inspired by Mel Fell.
Keep the learning and fun going throughout the summer! Family engagement can improve cognitive development and promotes social-emotional development in children. Join us on an adventure to our State Parks and local libraries filled with activities, games, and learning opportunities at the Pennsylvania's Promise for Children Summer Learning and Literacy Road Trip! Each week, learn about a different library, get book recommendations, and find fun activities to do at a Pennsylvania State Park. All activities align with the PA Early Learning Standards and can be done anywhere.
This year's PA One Book, Mel Fell, is also included on The Pennsylvania Center for the Book's A Baker's Dozen. A Baker's Dozen is a nationwide, annual initiative to screen over 2,000 picture books each year with the goal of identifying the top 13 that fulfill the goals of family literacy programs for preschoolers.